The Isle of Man Shipping Registry – An Innovative Approach
Advisers often need to guide clients on the most suitable jurisdiction to flag an owner's vessel. Historically, advisers have preferred tried and tested jurisdictions, but this is starting to change, due to the increasing importance of jurisdiction perception, international transparency, time differences, different legal systems and growing costs associated with certain jurisdictions.
Criteria to Select a Suitable Flag to Register a Vessel
"Best practice" to select a suitable flag would generally include the following criteria:
Strong economic international standards – a minimum 'A rating'.
Robust legal and construction standards.
A commercially run register – emphasis on service and response.
A strong performance in the areas of safety, security and environmental protection.
A jurisdiction that is White Listed by the Paris & Tokyo Memorandum of Understanding (Paris/Tokyo  MoU) – and low risk rating.
A jurisdiction strong on reputation, compliance and transparency.
Low registration costs, simplified bureaucratic procedures and minimal taxes.
What Additional Advantages Does the Isle of Man Register Offer?
The Director of the Register (Dick Welsh) in the Isle of Man has said "The Isle of Man used to be the best register you have never heard of", but now that is changing.  It is clear the Isle of Man flag is starting to create some real changes within the industry that will make it one of the leading international registers for quality, efficiency and innovation.
The Director also has an innovative view of Brexit, stating "Brexit creates uncertainty", but he points out that "the Isle of Man's position in the merchant shipping world is very clear, the Isle of Man is a British register and will fly the British Ensign, but it is not recognised as an EU flag."  Consequently, the EU incentives in terms of tonnage tax and access to cabotage trades in Europe have never applied to the Isle of Man. The EU Maritime Directives have also not applied automatically. Therefore nothing really changes as far as the Isle of Man Register is concerned. Mr Welsh also states, "The Isle of Man Register continues to hold a strong position as a British non-EU register, which operates as an international register and secures business through the financial and political stability of its jurisdiction". Going forward this might not be the same for all jurisdictions.
Over the past three decades the Register has grown substantially, and has recently received significant investment from the Isle of Man Government to increase efficiency and the service provided to owners. The Registry has targeted quality registrations and has a mission to become one of the world's leading Registers.
Facts and Figures – the Isle of Man Register
Results are starting to be achieved with the Register now boasting the following:
12th largest Register in the world; gross tonnage 17.1million.
3rd fastest growing Register in the world.
70+ major global clients.
414  ships registered and 137 super yachts registered.
Lower costs on the majority of vessel sizes in comparison to: Bahamas, Liberia, Marshall Islands and Panama.
A Cost Comparison: Isle of Man Versus Four Other Popular Ship Registration Jurisdictions
Cost is understandably a topic of great importance to owners.
The Isle of Man shipping Register provides a supportive function to the thriving financial services industry in the Isle of Man. The Register, therefore, does not need to act directly as a tax raising centre, which allows it to be very competitive.
Over a five-year period the savings that different Isle of Man registered vessels can enjoy, in comparison to other jurisdictions, can be substantial, as the Isle of Man Registered Cost Comparison Schedule shows below: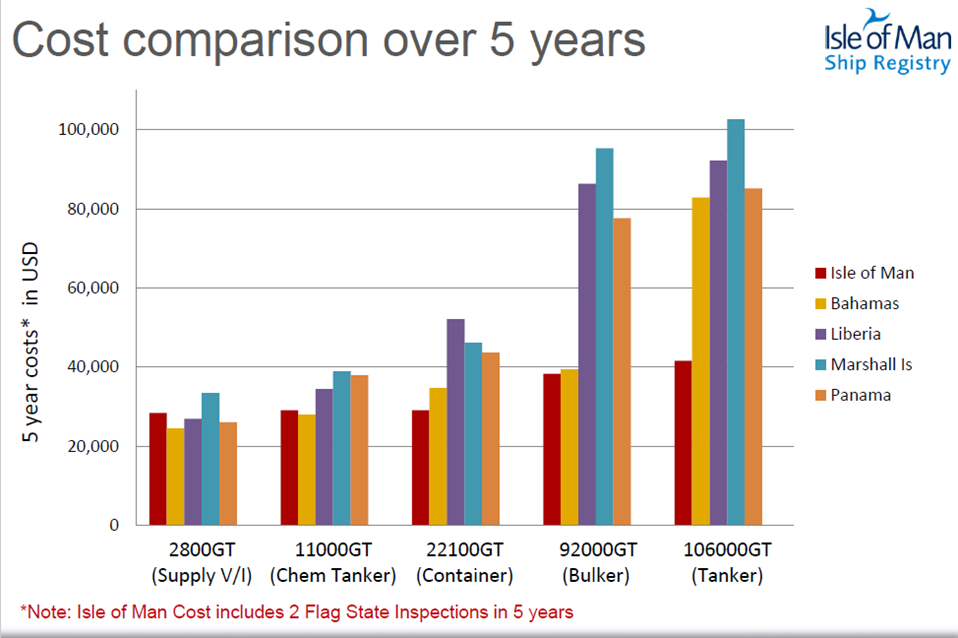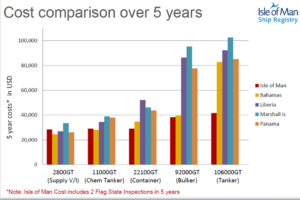 Summary
The Isle of Man Shipping Register is a commercial register with a very supportive Government, in a Moody's Aa1 rated jurisdiction, and with vessels allowed to fly the British ensign. Registrar staff have a strong technical and customer focused, supportive approach.
Additional Information
If you require any further information regarding the above article, please speak to your usual Dixcart contact at the Dixcart office in the Isle of Man.
Dixcart Management (IOM) Limited is Licensed by the Isle of Man Financial Services Authority.